Introducing: The Marville Road Denim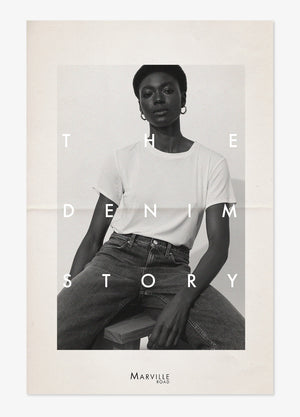 Our quest is always to simplify your everyday life by building a timeless wardrobe. We try to do the construction for you so you have time for the things in life that are important. Now we can finally introduce another vital part of a great wardrobe foundation that we know you've been waiting for – The Marville Road Denim. Read the story behind the denim and dive into every step of the process together with our founder and designer Jenny Holmén…
The Denim Story, notes by Jenny Holmén:
"When I design I always want to make every woman be all that she is. No matter the occasion she should be comfortable and feel great with timeless pieces she can wear year after year. And it was from this philosophy I also created our two denim fits,
The Wide
and
The Straight
. Adding denim to our world of timeless pieces is the next step in giving the Marville Road woman every piece of the wardrobe puzzle."
"Our denim has been created and perfected with so much love, passion and expertise by the devoted team to flatter our Marville Road woman. I'm so proud to have had the opportunity to work with people that usually partner up with more refined denim brands but who believed in us and what we are doing
So today we proudly
present to you Marville Road's jeans models for women The Straight and The Wide denim,

which we hope will be long lasting key pieces in your wardrobe!"
The two fits are designed to flatter and feel comfortable, both inspired by that classic vintage look and in a perfect blue shade. The fabric is made of 98% organic cotton with 2% stretch that will only get softer each year.
The Straight
is a classic fit, with a straight leg and has a flattering waistline.
The Wide
comes with a higher waist and a wider full length leg that starts widening below the hip to enhance your curves.
---
Back to THE MARVILLE ROAD MAGAZINE