THE 5-STEP CLOSET CLEANOUT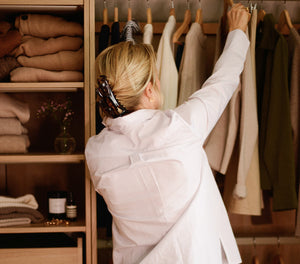 To kick off 2021, we created a five-step strategy for organizing and elevating your closet. 
The end result should leave you with a tight and versatile closet that works as hard as you do..! Let 2021 be the year you only wear clothes you actually feel good in.
 1. Decide what stays and what goes 
The best way to begin cleaning out your closet is to get everything out of it. Begin by going over each piece and asking yourself a few vital questions.
- Does it still fit?
- Have I worn this in the last 12 months?
- Would I wear it again?
- Is it damaged?
- Do I feel my best when I wear this?
- Would I buy this at the store right now?
- Do I love this item?
If your answer was "no" to any of the above questions, get rid of the item! The goal is to end up with three distinct piles: keep, sell or donate, and repair. 
2. Sell, donate & toss 
Now that you know what you're keeping and what you're throwing away, separate your wardrobe into three piles: sell, donate, and toss. If items are damaged or are no longer wearable add them to a toss bag. Sell the in items good conditions, that you no longer love. Give your old pieces a longer lifespan and sell them via any second hand market place. Do you have pieces which are wearable but with no resale value? Donate to charity or ask your nearest and dearest if they missing a piece like yours in their wardrobe!
3. Get organized 
Start putting back the items you decided to keep. Neatly fold your sweaters, get new hangers, and keep your wardrobe organized by colour to always find what you're looking for in the morning. Make a habit of putting your items back as soon as you're done wearing them. 
4. Care for and repair pieces worth keeping 
Invest in a good steamer, get rid of pilled sweaters with a gentle sweater comb. Does any of your beloved pieces need a face lift? Send them straight to your favourite tailor and cobbler! 
5. Strategize & rebuild 
Filling in the blanks is the fun part, but also the hardest… Pay attention to what you tossed, and don't make the same misstakes again! The only pieces coming through the doors of your wardrobe should be so versatile and seasonless you'll wear them on repeat for years to come. If the piece is easy to dress up and down with your favourite accessories, it's a yes! We have a few suggestions for you: 
 Shop long lasting wardrobe heroes HERE
---
Back to THE MARVILLE ROAD MAGAZINE