MEET THE TEAM - MARTINA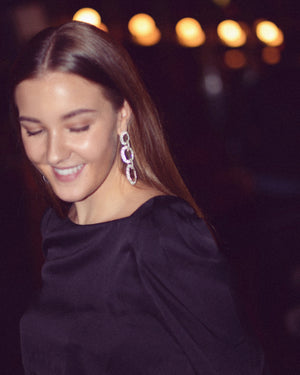 Our Marketing Manager Martina on her Holiday Rituals, Festive Dressing and how to host the perfect Party. 
WHAT ARE YOUR HOLIDAY RITUALS?
I really love a good holiday party with late night dancing. But the truth is that Im a real Homebody. During the Christmas holidays I just want to turn my apartment into an oasis of relaxation and enjoy cosy nights in. 'Tis the season for self care. For me, the best kind of self care is to spend time with my beloved ones, cook a lot, wear cosy knits and use a sheet mask or two... 
WHAT ARE YOUR HOSTING RULES?
Since I love to spend time at home, it's very important for me that my guests feel like my home is their home. I tend to light too many candles, but I think that's one of my most important hosting rules - A lot of candles makes everyone look great and you feel as though you can be a little mischievous. I want my guests to feel that the can be the best version of themselves. 
YOUR BEST HOLIDAY STYLE FOR PARTIES AND COSY DAYS AT HOME?
Silk! Always silk. A sleek silk blouse is one of those pieces that is just as suited for the office as it is for nights out. Im going to a Christmas Cocktail next week and I think Diana Silk Blouse will be my + 1. Also earrings can change a whole look, that's my best tip to create new looks with the pieces you have in your wardrobe, instead of buying a new piece each time you're going to a party. When Im at home, Im not that sleek (haha) - Most of the time I wear yoga tights and a chunky knit. 
Diana Silk Blouse / Jade Velvet Trousers 
WHAT IS YOUR MOST VALUABLE LESSON YOU'VE LEARNED THIS YEAR?
To always listen to what my heart tells me to do. I love to grow older - I find myself getting so much more grounded in myself and my decisions for each passing year. I believe that your heart in interaction with the universe creates the best imaginable for you - no matter what.


WHAT ARE YOUR BEST TIPS TO BE MORE GRATEFUL?
1. Spend more time with your loved ones
2. Practice mindfulness
3. Keep a gratitude journal
---
Back to THE MARVILLE ROAD MAGAZINE