MEET THE TEAM - MARION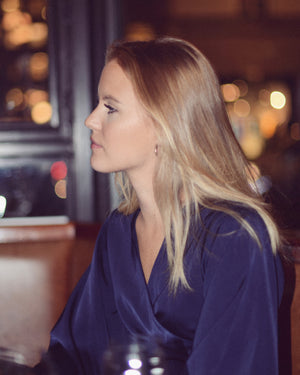 Our Logistic Manager Marion on her Holiday Rituals, Festive Dressing and how to host the perfect Party. 
WHAT ARE YOUR HOLIDAY RITUALS?
Every Christmas I go visit my family in the south of Sweden, I don't get to see them very often so during these days we just spend time with each other, decorating the Christmas tree and talk for hours about all the things we been missing out on. And of course, we do a lot of cooking since no holiday tradition could be complete without a festive meal. 


WHAT ARE YOUR HOSTING RULES?
The best welcome drink all year around is definitely sparkling wine. During the Christmas season I like to combine it with mulled wine, that makes the perfect Christmas cocktail. When my guests arrive, it's important that they feel at home, therefore I always play some good lounge music and later on, to end the dinner, there is always uptempo songs and a lot of hot shots, before heading out into the dazzling night. 
WHAT IS YOUR BEST HOLIDAY STYLE FOR DECEMBER FESTIVITIES AND COSY DAYS AT HOME?
When I'm hosting a dinner It's essential for me to feel comfortable, yet elegant, that's why the Mira Satin Wrap Dress is my favorite piece from our festive collection and my forever go to look for parties. This thanks to the satin material and the wrap design that the dress offers. When I'm not out and about, I like to spend time at home which is my comfort zone and my safety place. I love strolling around in my silk pyjamas and fluffy slippers, even if I'm just spending time at home I like to feel nice and comfy, especially during Christmas when everything else is hectic and stressful. 
WHAT IS YOUR MOST VALUABLE LESSON YOU'VE LEARNED THIS YEAR?
This year I learned that things turn out well if you just stay positive and have patience, great things take time and if you just work hard and worry less you're going to feel more happy and be satisfied with yourself. In the coming year I take these lessons with me, and keep up with the positive mindset and the no-worries-attitude. I'm gonna focus even more on my needs and wishes in order to be the best version of myself. Not just for my own sake but for the important people that's close to my heart. 


THREE THINGS THAT ALWAYS MAKE YOU SMILE?

1. Waking up early on a Sunday morning, practice yoga, and grab a strong cop of coffee, knowing that I haven't a single plan for the rest of the day.
2. Dogs, especially french bulldogs (I'm obsessed, I can stop and stare for a lifetime when I see one on the streets)
3. Unexpected things that happen in everyday life, like when a stranger gives you a genuine smile. 


---
Back to THE MARVILLE ROAD MAGAZINE