MEET THE TEAM - JENNY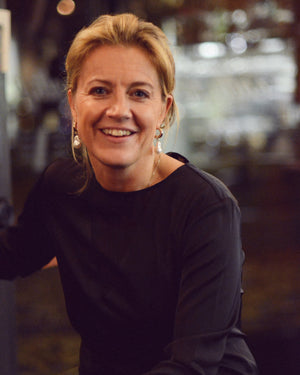 Our Founder Jenny on her Holiday Rituals, Festive Dressing and how to host the perfect Party. 


WHAT ARE YOUR HOLIDAY RITUALS?
We have a big crazy family and the whole bunch always comes to celebrate with us. We all stay in our house three days which is hectic but a lot of fun. The family has grown every year with new little cousins and new family members of all sorts, and this year there is a newborn little girl in the crowd who'll get a lot of attention I'm sure! We're all big foodies and everyone has their preferences when it comes to Christmas food, so there is both traditional Swedish Christmas menu followed by a lot of fish and shell fish with most of us being from the west coast. When the big bunch leaves after three days, its just the five of us and I've promised the kids that we'll have at least one day at home in our pj's watching movies and zipping tea all day. I will definitely get out once a day for a run or a walk by the sea, read a good book and just watch a nice movie with my hubbie.



WHAT ARE YOUR HOSTING RULES FOR DECEMBER FESTIVITIES?
The best welcome drink: Bubbly or on Christmas eve we drink warm applejuice with calvados seasoned with cinnamon and star anise. It's the perfect start of the festivities and makes everyone warm and comfy.


What I wear as a hostess to feel confident: I tend to wear trousers and a top, almost always something winter white, its my thing really.

When taking charge of the playlist, I play this kind of music: The first days I love the Motown Gold Christmas hits varied with Manhattan Transfer's Christmas specials, it just gets me in that feel good mood. After a few days however I've had enough, and I'm back to soft relaxing jazz as always.


YOUR BEST HOLIDAY STYLE FOR PARTIES AND COSY DAYS AT HOME?
My favourites for parties is the Penelope dress - its such a simple little black dress in black satin stretch with a chiffon detail.  Apart from this, I love the Ariana écru top and matching écru Jade trousers, it will be certainly be my off-white set this Christmas! When Im at home I just love a simple look with a
 knitted sweater and jeans. Dressed up with the simple Leonie silk stretch shirt if I need to dress up for lunch!


WHAT IS YOUR MOST VALUABLE LESSON YOU'VE LEARNED THIS YEAR?
That I need to do one thing at a time, not all at once and the importance of taking time off / go on holiday to get new inspiration and be creative again!


WHAT IS ONE THING YOU WOULD LIKE TO ACCOMPLISH IN THE COMING YEAR?
I want to help dress even more beautiful strong and active women so that they can focus on the things they want in life. I want to grow our business by establishing an even closer relationship with our customers.


WHAT ARE THREE THINGS THAT ALWAYS MAKE YOU SMILE?
Other peoples' smiles, a strong coffee in the sun, and my kids.


---
Back to THE MARVILLE ROAD MAGAZINE