MEET THE TEAM - HEDVIG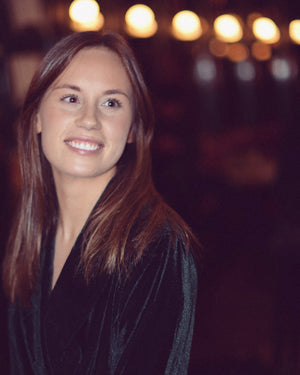 Our Logistic Coordinator Hedvig on her Holiday Rituals, Festive Dressing and how to host the perfect Party. 
WHAT ARE YOUR HOLIDAY RITUALS?
There's no place like home for the holidays, so that is where I spend it together with my friends and family. And for some extra festive spirit - there's no better way to get excited for the holidays than curling up on the couch with some Christmas movies, so go and put on your most comfy clothes and pick a movie to watch (my favorite one is The Holiday - it's a must!) 
WHAT ARE YOUR HOSTING RULES FOR DECEMBER FESTIVITIES?
Baby, it's cold outside—and what better way to warm up than with a Christmas cocktail? My favorite one is a Moscow Mule, preferred served in a copper cup with a lot of ice. Put on your favorite playlist and then you're all set! Cheers!
 YOUR BEST HOLIDAY STYLE FOR PARTIES AND COSY DAYS AT HOME?
My best tip is to save all the gold and glitter for New Years Eve and stay in your pyjamas instead. All I want is being comfy and make sure there's enough space for all the food. Oh or wait, I have a better tip. If you wanna dress up AND be comfy, put on our matching velvet set and let the celebration can start (thank me later!) 
Violet Velvet Blazer / Jade Velvet Trousers / Lace Singlet
WHAT IS YOUR MOST VALUABLE LESSON YOU'VE LEARNED THIS YEAR?
The year is coming to an end  and amongst the festivities and hopes for 2020, I couldn't be more thankful for the past year. I got to spend it in one of my favorite cities, New York, which gave me endless of new memories that will keep me warm forever. I'm so thankful that I believed in myself since I moved over there all alone. And with that said -  you are capable of more than you know - remember that! 


---
Back to THE MARVILLE ROAD MAGAZINE